Augmented Reality (AR) is the process of digitally adding to the visual components of the actual, physical world. The example of AR that most people are familiar with is the Snapchat filter, which lets users look like they have dog ears and a dog nose, and allows users to virtually swap faces with each other.
But AR isn't just for laughs. It is emerging as a valuable marketing tool. What if someone could see what a piece of furniture would look like in a room before buying it? What if they could virtually try on a scarf or dress and then click to buy it instantly? Such scenarios are what many brands are counting on.
AR ads already exist, though there aren't many of them yet. For example, Indonesian bank Mandiri has an AR ad that lets Mandiri customers view a virtual rhinoceros that they can feed and play with. The purpose of the ad is to draw attention to a partnership between the bank and the World Wildlife Fund. Facebook is now rolling out its first AR ad, and is expected to herald a new era of marketing that puts AR to use in brand-building and engaging customers.
The First Facebook AR Ad and How It Works
Facebook's first AR ad is for the fashion brand Michael Kors. The ad allows users to virtually try on different styles of sunglasses on selfies. They can choose different lens and frame colors, and see what they look like using technology similar to that used with Snapchat filters. Back in 2016, Facebook bought an AR face filter app called MSQRD, and there was speculation it was done in response to Snapchat's acquisition of Looksery, another face filter app. But it could be that Facebook bought the app in anticipation of brands creating their own masks and filters for use in AR advertising.
Instagram, Messenger AR Ads Expected in Near Future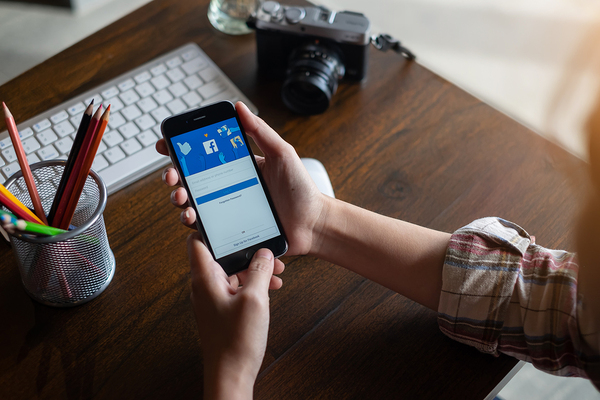 Facebook is taking its initial rollout of AR ads slowly, but there is little doubt that if it takes off, such ads could be seen on Facebook properties Instagram and Messenger eventually. Instagram shopping is already a phenomenon, allowing people to quickly and easily buy things they discover on Instagram, and AR ads could take it a step further. Virtually trying on an accessory and then buying it directly from the Instagram AR ad could represent a powerful new form of brand-customer engagement.
And while Messenger may not seem like an obvious platform for AR advertising, Facebook tested an AR experience for Nike enthusiasts earlier this year at its F8 developer's conference. In this application, so-called "sneakerheads" were able to access the AR ad on Messenger and buy the shoes directly from there.
Reducing the Time Between Discovery and Purchase
The main purpose of AR ads is to limit the time and the "friction" between a consumer's discovery of an item they like and purchase of that same item. There will no doubt be a fun novelty effect as shoppers can virtually try on Michael Kors sunglasses and then buy them instantly.
And AR will also have many applications outside the fashion industry. When customers can "see" a room in their home with an entirely different paint scheme, they'll be more confident in their paint purchase, and when AR enables them to "play" in unique ways (like the wildlife app used by the Mandiri bank), they suddenly have a world of new ways in which to interact with their favorite brands. Hangar12 is at the forefront of CPG marketing strategy and more. Subscribe to our blog to stay up-to-date with our latest insights.
Topics advertising, social media
Subscribe to ConsumerTalk