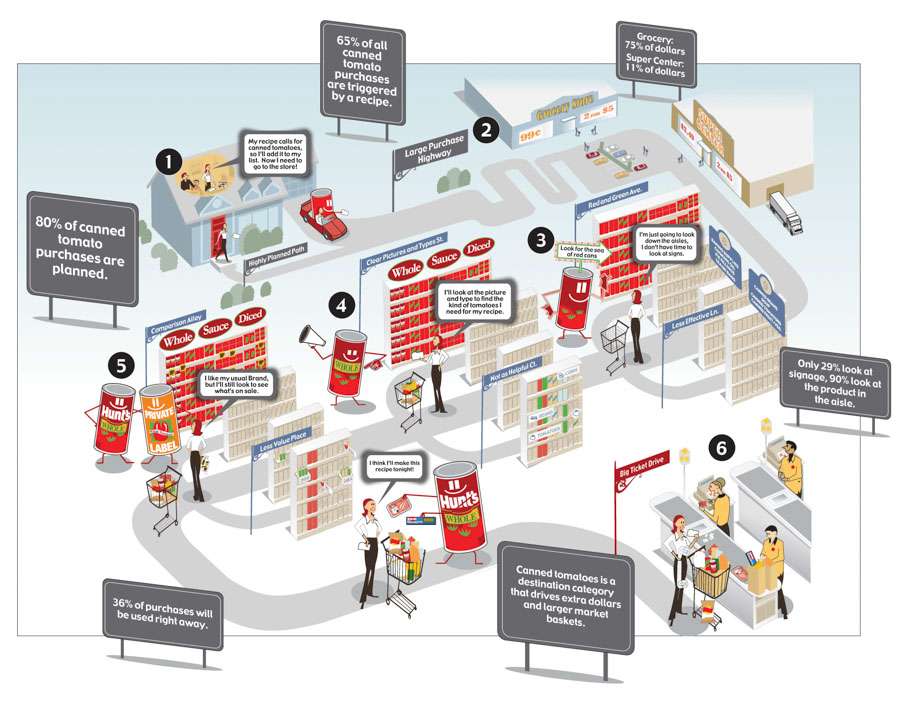 We ensure that a relevant message hits the shopper at the point of decision along the path to purchase. Since both the brand's shopper and the retailer's customers define the target shopper, this is where Hangar12 can help you and the retailer work to find the common areas within each other's marketing mix. Then we create shopper marketing plans based on this common area. The result is your brand's products are differentiated from its competition in the retail store AND the retailer is able to use your brand's products to differentiate his retail store from all the other stores competing for his customers.
Hangar12's understanding of how your target consumers behave as shoppers (in different channels and retailers) and leveraging this intelligence is how we create success for your brand. To deliver on our customized in-store experiences that meet shopper preferences, we use a combination of the following tactics:
Product / store displays
Promotional packaging
Shelf signage
Floor graphics
Recipe / coupon machines
In-store advertising
Loyalty cards
Store circulars
Retailer app / website
Shopping cart ads
Sampling
Custom retailer programs
Benefits of Shopper Marketing
Shopper marketing has continued to permeate the marketing mainstream. Its proponents argue that it is an important move away from the short term and sometimes troubled past of trade marketing and sales tactics to a more strategic marketing discipline that has a key role to play in an integrated marketing approach. Shopper marketing has always been a data-driven practice, starting with retailers and CPG brands leveraging shopping baskets and data to drive marketing segmentation.
But the rules have changed. Personalization based on customer behavior has become a hallmark of digital commerce and online shoppers expect the sites they visit to know who they are, what they've bought and to provide them with relevant offers and suggestions based on that history. The challenge now is to bring that same level of personalization to alter the in-store shopping experience. Companies with effective shopper marketing in place deliver significantly greater ROI than those that do not employ these strategies.
Yet there is another, potentially bigger benefit – alignment across the sales and marketing functions, and through this consumer marketing teams benefit from shopper marketing too. Marketing to shoppers – understanding the target audience as they shop, and creating activities to change their behavior in a way that will drive consumption of your brands – has many benefits. For example, shopper marketing refers to the marketing stimulus reaching the shopper, which is based on knowledge of the shopper's buying behavior.
Like the traditional marketing mix, shopper marketing can be divided into four P's: product, price, place and promotion.
Product: size, shape, color, material, packing, and graphics
Price: discounts, bundled offers, price communication, and coupon
Place: store plan, lighting, shelves, and placing of special presentations
Promotion: packing and store promotions, promotion communications, displays/presentations, video, as well as advertising on shopping carts and elsewhere in store
This is where the manufacturer and retailer must work to find the common areas within their strategies and devise marketing and promotional plans based on the common areas. What results from this collaboration is true shopper marketing win-win. The manufacturer's products are differentiated from other manufacturer's products in the retail store and the retailer is able to use this to differentiate his retail store from all the other stores competing for his shoppers.