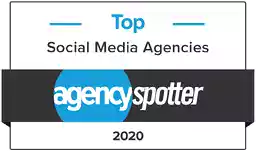 Brands all over the world have discovered the ways that social media can contribute to success and growth. At Hangar12, we help brands take advantage of social media to increase brand exposure and broaden consumer reach. Our goal is to create compelling content that users will share with their social networks. We focus on the top most popular social media sites, by estimated unique monthly visitors:
Facebook: 2,930,000,000 monthly users. #1 social media site. Facebook pages are where brands can share content that their shoppers and consumers want and need. A Facebook page for your brand will help you reach more people, have a better sense of what your audience wants, and will allow your fans to stay current.
YouTube: 2,600,000,000 monthly users. #2 social site. YouTube is a video sharing service where users can watch, like, share, comment and upload their own videos. The video service can be accessed on PCs, laptops, tablets & mobile phones.
Twitter: 240,000,000 monthly users. Twitter is a social networking tool meant for sharing information as it happens and connecting with people. This leads to lasting relationships that brands can maintain over time.
Instagram: 1,440,000,000 monthly users. #3 social network site. Instagram is a photo/video sharing mobile app that is built on the power of visual storytelling. Brands have been a part of the community since its inception, and have been using the platform as a way to showcase their products in a rich, visual context.
Pinterest: 433,000,000 monthly users. Pinterest is a site used to post new ideas, "do-it-yourselves" and theme-based posts. Pinterest helps people discover things in a simple, visual way, which makes it extremely effective as a brand tool. Pinners might find something they love while browsing your brand boards, scrolling through a category you're listed in or searching for you directly.
Can explore quickly evolving advertising options on emerging Social Media platforms like TikTok (750,000,000 users) and SnapChat (494,000,000 users).
Social Media is still growing at an unprecedented rate and shows no signs of slowing down. The bottom line is that there are over a billion people using social media around the world – the numbers are staggering. Most brands that are effectively using social media today cite its ability to strengthen relationships with customers as the primary benefit they reap from their efforts. With that said, we can help you implement social media strategies in all types of communication with your audience, including customer service, acquiring consumer feedback, and marketing new products and offerings.


As an example, for our brands using Facebook and Instagram, Hangar12 provides the following services:
Calendar planning
Content creation (copy and visuals)
Moderation/escalation/engagement
Content scheduling and posting
Community management
On-going optimization
Regular reporting of metrics
Advertising campaigns