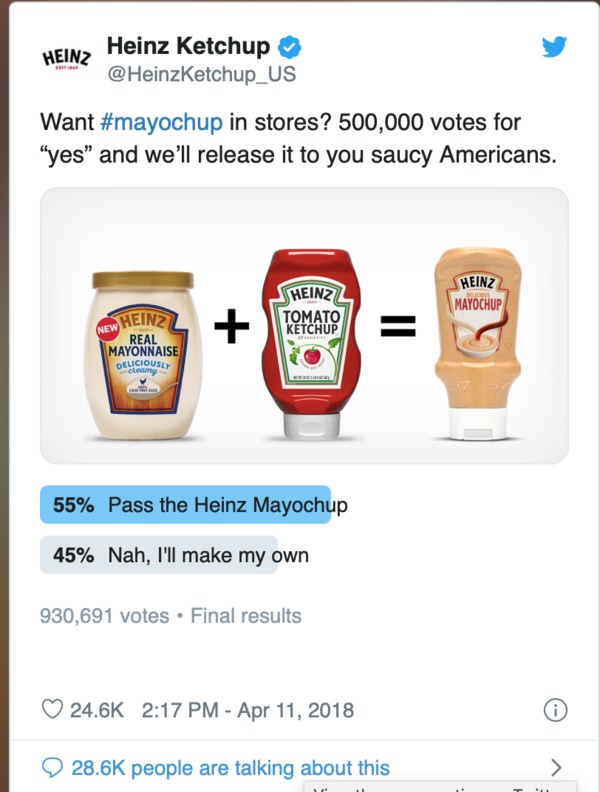 Heinz is about as American as the flag, a brand associated with summertime activities like eating hotdogs and hamburgers outside over a campfire. But it is also a brand more recently correlated to CPG marketing genius, as the company used a Twitter poll to generate one million impressions sparking massive consumer engagement in about two days. Here's what they did and what it meant to the brand and its customers.
CPG Polls on Twitter Bring Brand Buzz
While Heinz has been around for decades, this old dog still has a few tricks up its sleeves. Heinz has long been the stalwart brand leader for CPG marketing of its ketchup product. When the brand decided to take on that other American condiment, mayonnaise, they wanted to entice current customers to buy-in to the new product. How to do it?
The answer was to pay attention to social media. CPG marketing teams noticed that Heinz MAYOCHUP, which was a blend of ketchup and mayonnaise available in the Middle East, was gaining social traction. A traveler tweeted a photo of MAYOCHUP, and a viral debate ensued about whether the product should be sold in other locations.
The company responded to the debate by creating a CPG poll on Twitter, asking viewers if they should release MAYOCHUP in the United States. If MAYOCHUP received 500,000 "yes" votes, it would enter the American grocery shelves. The Tweet included a short video of Heinz ketchup and the new mayonnaise products combined to form MAYOCHUP.
Heinz released the Twitter Poll, selected because of its ability to show real-time voting results. A Heinz press release showed some surprising results.
First, they gained an opportunity for further customer interactions when threads emerged with suggestions for a better name than MAYOCHUP.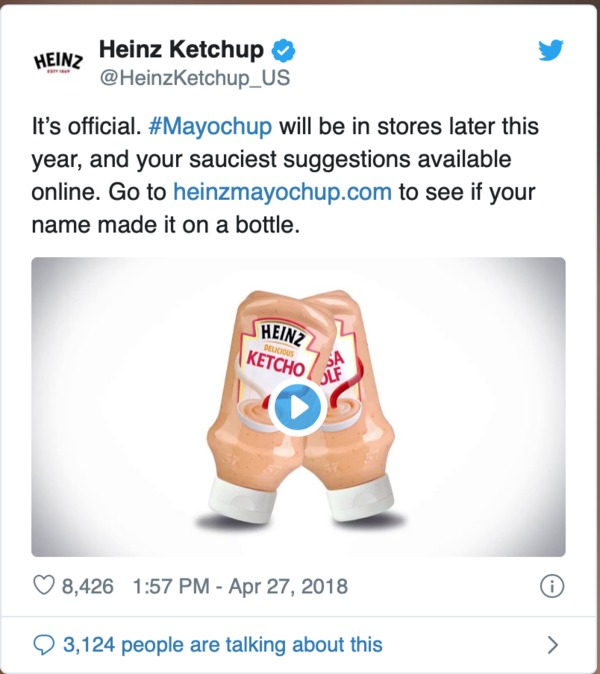 But it was the viral nature of the post that was the most surprising for the brand. The MAYOCHUP poll received nearly one million total votes, with 55% voting for the U.S. release of the brand. True to its word, Heinz is releasing the brand in the U.S. later this year.
In another stroke of CPG marketing intelligence, Twitter's case study on the incident reports that Heinz offered consumers pre-orders of the product with the alternative names their Twitter followers suggested, such as Ketcho, Fry Sauce, Mayup!, and so on.
But after all this fervor over the combined product, what happened to the original idea to promote Heinze mayonnaise? Twitter reports it received a 28% increase in brand awareness from the interactive Twitter campaign.
What's the bottom line for CPG marketers interested in creating their own brand buzz? The result of the Twitter poll shows the effectiveness of audience engagement for CPG marketing. Heinz used the CPG poll to achieve more than one million impressions in 48-hours and 2.4 million impressions overall. There is little doubt that this correlated to increased product awareness within their consumer base.
Hangar12 is at the forefront of CPG marketing strategy and more. Subscribe to our blog to stay up-to-date with our latest insights.
Fill out the form below to download a sample poll that you can use to engage consumers in the success of your brand.
Topics cpg trends
Subscribe to ConsumerTalk