We're brand strategists, designers and insight specialists who love to connect brands with consumers. The Hangar12 leadership team brings decades of experience on consumer brands from the agency and brand sides of the business.
Our President Kevin Keating originally worked for the agency for 10 years before acquiring it in 2000. The agency has grown from its in-store marketing roots to a consumer-centric, integrated brand activation agency. Our talent is located in Chicago, Minneapolis, Saint Louis, throughout the U.S. and globally. We can be integrated and scaled for your specific needs. Meet some of the people who live and breathe our clients' brands every day.
As a creative and strategy professional, Kevin has always been passionate about great design and innovative ideas that better himself, his agency, and his clients' experience. This foundation came from his father who inspired him to launch HANGAR12. Over the years, he has focused on a solitary vision: putting the CONSUMER FIRST® by collaborating with consumers to shape solutions and build consumer-centric experiences. Kevin has been recognized by Path To Purchase Institute as a leader in Shopper Marketing and is co-author of the book "Surviving the SEISMIC SHIFT in Marketing."
Greg joined the agency in early 2018 as an Account Supervisor and quickly immersed himself in the brand marketing world. Bringing a background in project management and data analytics, Greg shifted into agency operations, finance, & new business to help drive agency growth. Greg has a strong focus on simplifying complex ideas to solve brand problems across the CPG industry.
Ashley was born and raised in Youngstown, Ohio and attended Ohio State University. She graduated magna cum laude with a double major in International Business and Fashion Merchandising. After graduating, Ashley spent over 10 years working on one of the biggest brands in the world, McDonald's. While it was tough to leave the golden arches behind, Ashley couldn't pass up the opportunity to join the great Team at Hangar12 and expand her marketing knowledge.
Erynn Looby
DIGITAL MARKETING STRATEGY DIRECTOR
Erynn started as an intern at Hangar12 while completing her Bachelor's Degree in Animal Sciences at the University of Illinois at Urbana-Champaign. She quickly discovered a passion for marketing management and strategy, and advanced through the agency to her current role. She currently resides (and rock climbs) in Beattyville, KY near the heart of the Red River Gorge.
Becca is a small town girl that became obsessed with Social Media Marketing & Data Analytics after earning a Marketing & Interactive Studies degree at Northern Illinois University. Over the past 6 years she's worked on brands both gigantic and tiny, and still gets a kick out of putting new capabilities and ideas to work on Social. We dare you to try and stump her with a Social Media question... becca.mensing@hangar-12.com.
Becca is addicted to Travel & Coffee. To merge the two interests she launched a traveling Coffee Roasting business in 2017, Old Man Murph's Coffee. If you ask really nicely she may just send you a sample.
Melissa may have cut her wedding cake with a machete, but she approaches art direction with a delicate touch. Her background in traditional illustration and design for brands like Disney, Dreamworks, Reckitt Benckiser, Walmart and Nike imparts a unique approach to translating design into the digital space. In her free time not spent chasing after her son or watching movies with her husband, Melissa designs (award-winning!) stationery.
Ask Sheila what her favorite childhood pastime was and she'll tell you it was memorizing television commercials and acting them out on her living room "stage" for family and friends. So, it's no surprise that she chose marketing as her career path.
This native Chicagoan has a deep history in the business. She's worked the gamut of agencies from mom & pop to the big ones including FCB/Draft, Upshot and Publicis on brands like Coca Cola, NFL, Target, CVS, and the American Dairy Association. She's even spent time on the client side at Ace Hardware and in the non-profit world for the Cystic Fibrosis Foundation.
The combination of her brand storytelling, visual thinking, and ability to concept at the drop of a hat is what sets her apart. Proud Career Moments include: Being one of the creative leads for Lincoln Park Zoo's First Annual Zoo Lights Festival. BTW: It's still lighting up Chicago's holidays to this day. Senior Creative on Target's multimillion dollar Restoration of the Washington Monument and inventing a new form of retail signage at her second job out of college.
What does Sheila love most about being a part of the Hangar12 family? The ability to work within a true 360 degree marketing platform from concept through execution in both a trade and consumer-facing capacity, something she believes is often talked about, but rarely walked about.
Natalie Morse
BUSINESS DEVELOPMENT LEAD
Originally from Columbus Ohio, Natalie graduated from the University of Kentucky with a Marketing and Management degree. Natalie's passion for the marketing world started while working as a Marketing Intern in London England for a Wine and Spirits company. Now living in Chicago, Natalie shifted into sales after working at Oracle selling agency-specific business management software. She came to Hangar12 as the Business Development Lead focusing on building new client relationships and building brand awareness for Hangar12
Natalie loves the Columbus Blue Jackets, traveling, and sea turtles!
Born and raised a Hoosier, Jacq went to Indiana University and earned a BA in K-12 Art Education. After years of teaching elementary and high school art, she transitioned to managing community engagements for 4 climbing gyms in the midwest and then joined the agency in 2021 as our Social Media Coordinator. She's always enthusiastic about finding trending concepts to keep our agency social media recommendations fresh. If you were to send her a TikTok, chances are she's already seen it.
Jacq bounces around between Indianapolis, Chicago, and her tiny house the Red River Gorge, Kentucky with her Australian Shepherd, Chinook. In her spare time, Jacq is often found rock climbing or working on metalsmithing, painting and woodworking projects.
Nikki is a Missouri native who received her undergraduate education from Westminster College in Fulton and earned her MBA at Rockhurst University in Kansas City. Prior to joining Hangar12, Nikki spent the first decade of her career at Hallmark Cards, Inc. working to provide administrative support, scheduling, account and project management primarily in the marketing studio and visual merchandising departments. She then moved to Rouge 24, a package design agency, as a project manager and supported the Sam's Club private's label brands. As Project Manager at Hangar12, Nikki works with the account and creative teams to ensure projects are executed accurately and on-time.
Collin grew up in the suburbs of Chicago and graduated from the University of Illinois at Urbana-Champaign College of Business with a degree in Finance. He began working at Hangar12 in 2007 as a financial analyst and now handles operations and HR.
He lives a little too close for comfort to the northern border of Illinois. When he isn't fending off hordes of fans from 'that team to the north', he enjoys watching and attending sporting events, coaching travel basketball, and spending time with his wife Julie, son Camden, and daughter Brooklyn.
Leslie doesn't just love accuracy — she's obsessed with it. (It's a healthy obsession, of course.) That obsession has enabled her to work as an editor for one of the most widely read psychiatric journals in the world, The Journal of Clinical Psychiatry, and as a proofreader of projects for some of the largest companies in the world. In fact, her client lineup includes Fortune 500 companies such as FedEx and International Paper. It's only fitting that "Eagle Eye Baker" gets to work with the brightest minds in the business at Hangar12.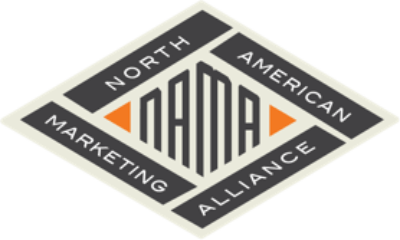 Member of the North American Marketing Alliance
Hangar12 is part of a network of eight independent agencies across the United States and Canada. We offer our clients an array of specialized marketing services, industry insights and buying efficiencies. Get global strategic thinking with nimble, local expertise. Check Out NAMA