M&M's is the best-selling candy in the United States, and it has been around for almost 80 years. When you think of all the changes that have taken place during that time, the unceasing popularity of M&M's is even more impressive.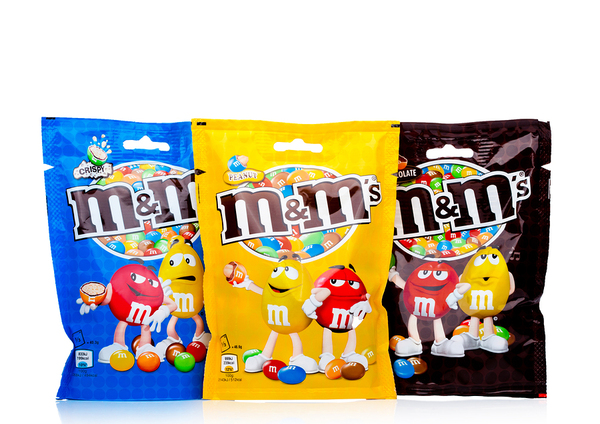 Necessity is often the mother of invention, and that was the case with M&M's, because confectioner Forrest Mars wanted to create a chocolate candy that people could enjoy in the summer months (in a world where air conditioning was not commonplace). So Mars invented a bright, colorful candy shell to encase the chocolate and prevent summertime melting, and an American confectionary icon was born.
And not only were M&M's popular, but they also turned out to be an excellent addition to soldiers' C rations during World War II because they provided needed calories, tasted great, and didn't melt. The war ended, but the popularity of M&M's didn't. We may now live in an era characterized by technologies that weren't even imaginable when M&M's were invented, but we still love our M&M's as much as ever.
Part of that is due to the company's outstanding marketing strategies over the years. Here are four of the top marketing lessons candy companies can learn from M&M's.
1. Have a Great Product That People Want
M&M's have much to recommend as a treat. They taste good, and they're easy to share. For people interested in portion control with their treats, dividing up a bag of M&Ms is straightforward. You can even get them in resealable packages now. And they've been around long enough that generations can open a bag of M&M's and know they're getting the same taste and experience they've had since childhood.
2. Follow Trends without Losing Brand Identity
The M&M's "spokescandies" date back to the 1950s, but they have undergone makeovers since then. In the mid-1990s, the spokescandies were re-drawn and animated to have distinct, cheeky personalities that consumers love. The company has also engaged with the public when choosing new colors and compositions. For their 75th anniversary in 2016, the company even commissioned a new version of the song "The Candy Man" to appeal to Millennial consumers.
3. Embrace Social Media, Mobile Marketing
M&M's embraced social media early, and they've used it to keep a finger on the pulse of consumer trends and pop culture. In 2018, the company partnered with Facebook to develop a marketing campaign that was mobile friendly and that took full advantage of social media sharing to promote its M&M's Mix packs, which contain chocolate, crispy, and peanut M&M's in the same pack. And it worked too. The company made back over three times its investment in the social media advertising campaign.
4. Keep It Fun!
Read about M&M's marketing strategies and tactics over the years, and you'll be struck by the sense of fun that is always present. After all, M&M's is a candy. It's colorful, beloved by young and old, and willing to embrace the new without giving up authenticity. This approach is perfect because candy is supposed to be a treat, and by all measures, this approach has worked out well for M&M's, and for a very long time too.
M&M's is a brand that has been around long enough and with enough success that it makes a good case study for what works in marketing. The brand knows its target audience (as large and diverse as it is) and makes an effort to keep up with what that audience values. Their longstanding success shows that the approach works. Hangar12 is at the forefront of CPG marketing strategy and more. Subscribe to our blog to stay up-to-date with our latest insights.
Topics marketing
Subscribe to ConsumerTalk